HeFei Vetus Electronic Technology Co., Ltd.
Contact Vetus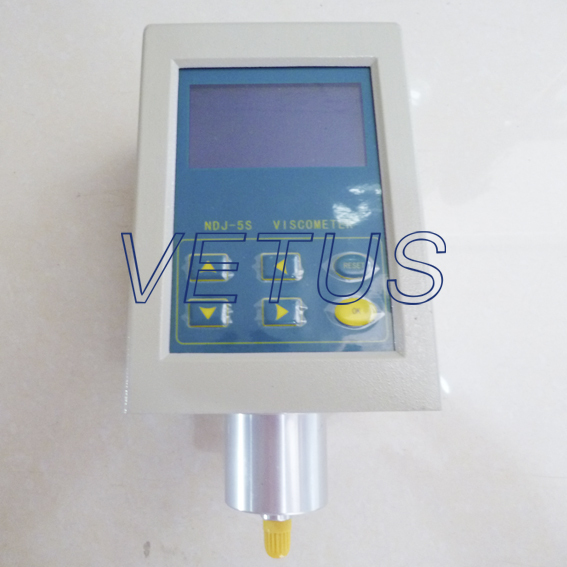 NDJ-5S digital display viscometer Rotary viscometer Viscosity tester Pointer Viscometer
Summary: NDJ-5 S type digital display viscometer is our factory rotating viscometer upgrading of products. The apparatus adopts the advanced mechanical design technology, manufacturing process and microcomputer control technology, data acquisition correct; Display choose blue backlight, high brightness LCD display, data showed that clear. The measuring instrument has high sensitivity, the test results are reliable, use convenient operation, modelling beautiful and easy, and other features, is used to measure the absolute Newton type liquid viscosity and the Newton type of liquid apparent viscosity of instruments, which can be widely used in oil, paint, plastic, cosmetics, resin viscosity.
The main technical parameters:
Type,
NDJ-5 S
Measurement range
1 ~ 1 x 100000 mPa x s
Rotor specifications
1-4 rotor matching 0 th rotor can be measured the low viscosity to 0.1 mPa
Rotor speed
6, 12, 30, 60, turn/points
Since the move files
Can automatically choose the right number and rotor speed
Interface choice
Chinese/English
Readings stable cursor
ShuTiao square full case show when reading the basic stability
Measurement accuracy
Plus or minus 2% (Newton liquid)
Power supplies
Ac 220 V plus or minus 10% frequency 50 Hz plus or minus 10%
Work environment
Temperature 5 OC to 35 OC, relative humidity is not more than 80%
Shape dimension
370 x 325 x 280 mm
Net weight
6.8kg

Working principle:
This instrument for digital display viscometer, the variable speed drive by motor rotor for constant speed rotation. As the rotor in liquid rotates, the liquid will produce the effect of viscosity moment in rotor system, the viscous torque is bigger also; Conversely, the more liquid viscosity of small, this viscous torque is also more small. The role of viscous torque in rotor by sensor test out, through computer processing that measured liquid viscosity.
The apparatus adopts microcomputer technology, can easily set range (rotor number and speed), the sensor detects the data to the digital processing, and on the screen clearly showed when measuring the rotor speed, set, and measured liquid viscosity value and its full range percentage values, etc.
NDJ-5 S equipped with four rotor (1, 2, 3, 4) and 4 files speed (6, 12, 30, 60, turn/points), and, as a result, the combination of 16, can measure the determination within the scope of the various kinds of liquid viscosity.
Accessories:
Host 1
1, 2, 3, 4, 1 set of rotor (note: 0 th rotor is options
1 set of power adapter
Protect frame 1 only
1 the base only
1 set up and down and pillar
1 the instructions
Certificate 1 piece of
Warranty 1 piece of
Hex head one plate
Stay wrench two (note: size each one)